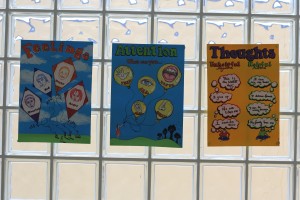 Starting something new can be quite scary. Like the first day of school – there are new people to meet, new names to learn and a whole new environment to get comfortable in. It takes a lot of confidence and that is something the children (aged 7-11) in our first Friends for Life holiday intensives program for 2016 experienced today. Whether they were with their siblings or by themselves, today was a great opportunity to leave their comfort zone, learn something new and get to know the other 16 unique and beautiful children they will be spending the week with. But what exactly did everyone learn?
First thing's first – after playing a quick icebreaker game, the children had a cheeky giggle as they ALL realised they have a love for pizza and Harry Potter – I mean who doesn't it, right? This made most of the children's apprehension and anxiety go away, knowing that they had things in common with people they've never met before. This is the first step of our program to normalise feelings and life experiences when we sometimes feel nervous or sad in certain situations – something we may all feel. Normalising feelings helps children and adults accept and understand their different emotions better.
Once everyone settled in our facilitator mentioned to the children the importance of being respectful, friendly and kind in order to have a have fun learn experience during the week. We then got straight in to the different fun activities in the program!
One of the lessons the children enjoyed was learning about how to be brave. We read an inspiring picture book called 'POG' written by Lyn Lee which tells the story of a monster afraid of children that soon conquered his fears when he comforted a fearful child. The children were enthused by the illustrations and the story and some who were initially shy at first optimistically shared examples of the people in their life who they think are brave and how they conquered some of their biggest fears. One of them said, "I think my mum is brave because she goes to rollercoaster rides all the time!"
But for some of the children, learning about how to express their feelings in a healthy manner was what they enjoyed getting to know more about. By using a number of different mediums including watching a scene from the brilliant movie 'Inside Out' and then playing a fun game where they identified the type of different emotions by just using their facial expressions, they quickly learned that it is okay to feel sad, angry or worried, but it all depends on what they did with these feelings. All feelings are okay, it's what we choose to do with our feelings – we can choose thumbs up actions or thumbs downs actions. For example, one of the children said, "You can be angry but you can't hurt yourself or anyone. You should explain why you feel this way to your parent or teacher so they can help you choose thumbs up actions to deal with your feelings."
And at that time, it was fair to say that the different topics about finding inner confidence, accepting our feelings and choosing thumbs up actions as well as learning to love the differences in one another was understood and appreciated by the children.
Meanwhile the parents of the children were not inactive in the waiting room drinking coffee. In fact, they were busy next door in their Adult Resilience Program, engaged in the same social emotional skills their children were learning. What will everyone learn tomorrow? We will soon find out and hear from what one of the parents have to say about their experiences.